Best Spoken English Coaching Class in BBSR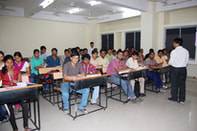 For admission in Bidyasagar Classes  the bestspoken English Institutes in Bhubaneswarplz contact 9337421183, 8093021183 .We also provides weekend classes for working professionals.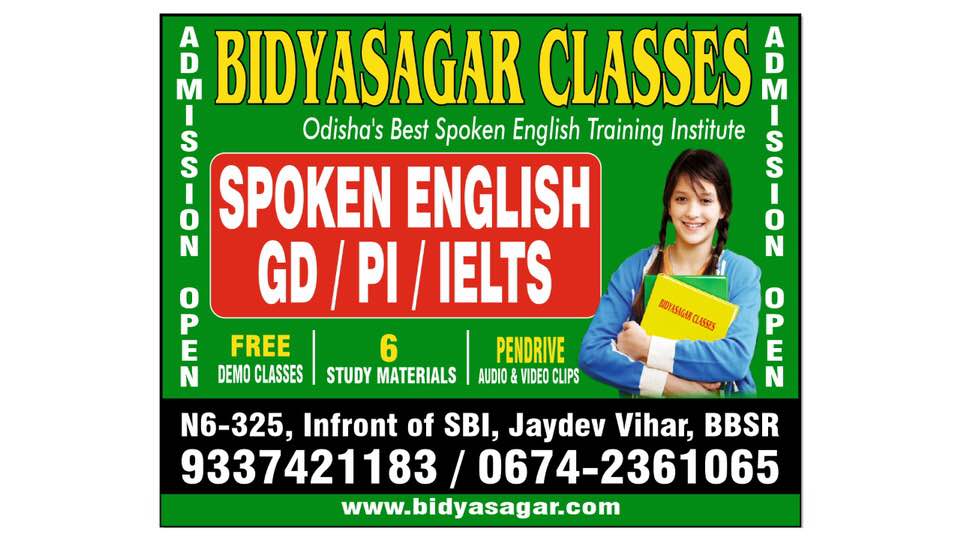 How We Do
If you hesitate to speak in English then join Bidyasagar English Academy to be a fluent English speaker. It is best coaching for spoken English in Odisha located at Bhubaneswar. Our lessons are found to be rewarding and motivating.Learn to communicate with fluency during routine tasks, converse with confidence on any given topic, describe experiences, discuss opinions and plans and differentiate the finer shades of meaning.
Improves accuracy in Grammar
Refines reading skills
Development of reading skills
Speaking English for the real world.

learn English interactively and for real-life situations
experience world class teaching with internationally recognised and experienced teachers
receive a Bidyasagar Classes certificate on successful course completion.

We offer courses for  students in bhubaneswar Jayadev vhiar Branch
Find out more  in our website www.bidyasagar.com contact 9337421183 8093021183
Spoken English Foundation

---

(BASE-101), Duration – 2 Months (2 hrs. per session)

Foundation course helps in introducing the basic concept to people for whom English is a new language. It helps them to get familiar with the usage of English in every day life.

– Formation of sentence structure
– Build daily use vocabulary
– Enhancement of Basic communication
– Importance and relevance of Tenses in usage

Spoken English Basic

---

(BASE – 101), Duration – 3 Months (2 hrs. per session)

Basic course is basically meant for those students who are not new to English Language. They have poor knowledge of grammar and incorrect sentences formation. They make sentences with wrong tenses. Vocabulary is weak in these students.

Key Features:

– Improve accuracy in Grammar
– Expand vocabulary
– Development of reading skills
– Correct pronunciation
– Art of Conversation
– Audio sessions for effective listening
– Communication in English in day to day situations

Spoken English Advance

---

(BASE – 102), Duration – 3 Months (2 hrs. per session)

This course is meant for students who have fair knowledge of grammar and vocabulary but are hesitant and under confident. They have incorrect pronunciation.

– Advance Grammar for construction & usage of complex sentences
– Advance vocabulary
– Appropriate usage of idiomatic phrases
– Improve public speaking skills
– Extempore session, group activities & flip overs
– Audio-visual aids

Spoken English Comprehensive

---

(BASE-103), Duration – 6 Months (2 hrs. per session)

This course is for the students who are with us for 6 months. This is combination of basic and advance spoken English course. This course helps in continuous progress of the student.

– Basic Course
– Advance Course:

Customised Courses

---

(BACC – 104), Duration – 20 Classes (1 hr. per session)

This course is available on one to one basis. The course is customized as per the student's entry level skills.

Key Features :

– Based on individual assessment
– Specially designed modules
– One to one interaction

Communication Skills / GD

---

(BACS – 201), Duration – 20 Classes (1 hr. per session)

This course is for the students who have confidence in grammar and can speak well though not very fluently and will lack in confidence while communicating with others.

Key Features :

– Build oratory skills
– Difference between verbal & non-verbal communication
– Overcoming roadblocks of communication
– Role of listening, understanding & feedback

Personality Development

---

(BAPD – 202), Duration – 20 Classes (1 hr. per session)

The aim of the course is to recognize the different ways a person thinks and responds to any situation. The course is to improve and change the inner traits like attitude, confidence, and perception for the good. It also comprises of grooming their physical appearance and body language.

Key Features :

– SWOT Analysis
– Inner Personality Development
– Role of motivation & body language
– Filling the GAP
G – Grooming
A – Attitude
P – Personality

Interview Techniques & Advance GD

---

(BAIG – 203), Duration – 20 Classes (1 hr. per session)

The objective of this course is to prepare the candidate for job interview. Now a days. Group discussion (GD) plays an important role in getting job. So this course gives opportunity to an individual to develop their public speaking skills.

Key Features :

Interview Techniques
– Preliminaries of an Interview
РWriting CV or R̩sum̩
– Mock Sessions
– Effective self introduction
– Reasons of rejection

Group Discussion
– Overcome hindrances (Lack of confidence/hesitation)
– Difference between hearing & listening
– Body Language
– Voice Mapping
– Conducts during GD

Creative Writing

---

(BACW-501), Duration – 1 Month (1 hr. per session)

This course provides a link between vocabulary and imagination. Students, who are chained with a set vocabulary, sound repetitive and boring. Creative writing gives them wings to spread and they develop a skill that lasts for a lifetime.

Key Features :

– How to create a backdrop for a storyline
– Conceptualizing an idea, formation of the plot & subplots
– Progression of the story towards climax through imagination and creativity.
– Various Formats
– Closing of narrative with different ends: Open and loose end, multiple layered end
– Enrich your flair for writing by using phrases, similies, metaphors and symbols, monologues and dialogues, satires, punning, paradoxical situations and soliloquy

Business English

---

(BABE-601), Duration – 20 Classes (1 hr. per session)

This course is for the students who are in job and lack in communication, writing & telephone skills. They may also need to improve on Business etiquette.

Key Features :

– Organizing thoughts and ideas
– How to make your content precise and powerful
– Business terminology and vocabulary
– Drafting official letters
– Preparation of quotations for business proposals
– Developing e-mail etiquette

---